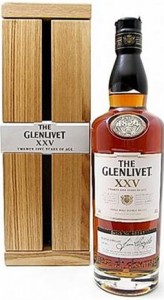 Tonight I attended a tasting event hosted by the great people at Spec's in Dallas. Pernod Ricard's Master if Scotch, Craig Vaught, sampled three whiskies from the Glenlivet line:
Glenlivet 18 Year – $85
Glenlivet Archive 21 Year – $130
Glenlivet 25 Year – $400
All of these Speyside whiskies were decent, but none of them were great. The 18 Year was fruity, woody and spicy, but none of it well integrated. The 21 year brought more balance to the flavor profile and improved with a few drops of water. Of particular note is that it pairs well with chocolate. The 25 year had the most pronounced influence of sherry and was quite enjoyable, but it was a toss-up with the 21 (for $80 less). Glenlivet is the top selling brand of Scotch whisky here and its easy to see why: easy name to pronounce and remember, good but not too challenging flavor, age-based progression that's easy to understand, great history and broad availability. For me, the one Glenlivet that I'm looking forward to trying is their 16 Year Old Nadurra, which is non-chill filtered and bottled at cask strength.