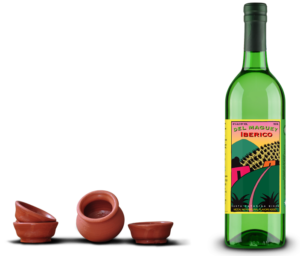 NTSS gathered for their first Mezcal tasting with the following lineup:
Mezcal "Fenix" de Oaxaca Con su Gusano (1970's) – fruity, earthy and  herbal with a note freshwater lake air and a notably good mouthfeel for a low-proof bottom-shelf spirit… this is pretty good
Forever OAX ($40) – vegetal with underripe fruit, mild pepper, mild smoke and green pepper… this is okay, but not worth exploring
Tres Papalote ($63) – cucumber, agave, grass, white pepper, black pepper, green pepper, green apple and a good mouthfeel… not an exciting spirit, but good
Del Maguey Vida ($31) – vegetal with light smoke, green pepper, brine, green apple and spearmint… very good stuff at a great price
Del Maguey Chichicapa ($64) – apple, pear, pineapple, green pepper, black pepper, green papaya, light smoke, slightly metallic… not as great as I remember, but this is a newer batch and still good
Del Maguey San Luis del Rio Special Cask – 20 Year Old Van Winkel Stitzel Weller Barrel ($120) – green pepper, vanilla, pear, grass, apple, nutmeg… very good, well-balanced with good character
Del Maguey Iberia ($200) – salty and sweet with anise, meat, apple, grapefruit, nectarine and grass… excellent!
Mezcal Vago Espadín ($51) – roasted corn, light smoke, black pepper, corn starch, pineapple… very good and I especially appreciated the roasted corn aspect
Mezca Vago Eloté ($58) – burnt candy corn, corn syrup, honey, candies ginger, vanilla cream … too much corn flavor
Pierde Almas Joven Tequilana Weber (Lote 02TW-SJR, 51.6%, $68) – green pepper, white pepper, guava, agave syrup, straw with a good mouthfeel… this is a really solid mezcal!
Pierde Almas Pechuga (Lote 02-P, 50.1%, $120) – coconut and meat with a nice oily texture and notes of grass and grilled pineapple… excellent!
Wahaka Tobala ($84) – butter, agave, white pepper, meat, plantains… not as good as I was expecting, but still very good
Marca Negra Arroqueño ($130) – astringent with green pepper, vanilla and agave … disappointing
Marca Negra Espadín ($55) – meat, light smoke, green pepper, nectarine and pear … good
My winner for the night was the Del Maguey Iberico (~$200) with Pierde Almas Mezcal de Pechuga (~$120) as the runner-up.  Both of these are a pechuga-style mescal – using ham for Ibérico and the traditional chicken breast for Mezcal de Pechuga.  I really like the contrast of meat and fruit against the smoky agave base. Honorable mention goes to another offering from Pierde Almas, Tequilana – a discontinued offering that is still available for about $60 (I found this bottle for $6 on a clearance rack!).