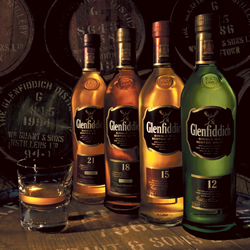 A special tasting (not the usual first Tuesday of the month) was held at Trinity Hall with David Allardice presenting the Glenfiddich line.  This was the lineup:
Monkey Shoulder ($24) – I didn't know that this was produced by Glenfiddich.  I've had it before and was quite impressed, but this time I actually get to take some notes.  The nose is pretty simple, yet good with honey, apple and caramel.  The taste is fruity and spicy with notes of ginger, apple, pear, vanilla, fresh cut straw before the finish becomes white pepper, ginger, honey and straw.  This is a simple, yet good whisky with a good feel, mild complexity and mild tannins.  This is my bargain blend choice at the moment and I'll continue to recommend it to bargain scotch drinkers.
Glenfiddich 12 Year Old ($35) – This is aged 15% in ex-sherry casks and 85% in ex-bourbon casks.  It's spicy with a mildly sweet taste and a fairly long finish.  I smelled caramel, vanilla, apple, peach and orange marmalade.  The taste was of cocoa, vanilla, ginger, tobacco, overripe peach and apple joined by black pepper on the finish with the ginger and cocoa being the main player from the initial taste.  This is a solid whisky for sure and a good bargain.
Glenfiddich 15 Year Old ($50) – Similar to the 12 year old, this is a combination of ex-sherry and ex-bourbon casks at 20% and 80%, respectively.  It has a medium mouthfeel with a mildly woody and fruity finish giving it a fairly tame approach while maintaining a nice balance of fruit, wood and spice.  The main notes are of plum, vanilla, prune, lemon drop, ginger, straw and apple with a mildly leathery finish of fruit and spice.  There's a lot more competition in this price range and this is not enough of an improvement over the 12 Year Old to recommend.  If you like the 12 Year Old and want to taste a bit more wood from the aging, then this might be worth a shot.
Glenfiddich 18 Year Old ($79) – The same 20% ex-sherry cask aging as the 15 Year Old is applied to this older offering.  It's definitely an improvement over the 15 Year Old, with more complexity and presence, while maintaining the same good balance.  A simple nose of vanilla, plum and straw don't do justice to the more complex tastes of ginger, orange, pear, black pepper and green pepper before transitioning to a nicely balanced finish of wood and spice with a good mouthfeel.  This was the best regular offering of the night, but it's a bit hard to opt for this with the likes of Glendronach 15 Year Old Revival  or Balvenie 15 Year Old Single Barrel at about the same price.
Glenfiddich 21 Year Old ($160) – Glenfiddich opt for a rum finish on this one and it only works marginally well.  It's fruity with a bit of pear, overripe apple and bitter orange, but it's got a light finish that just doesn't work.  This is a definite pass!  If you want to experience a rum finish, then get Balvenie's 14 Year Old Caribbean Cask offering.
Glenfiddich Age of Discovery ($150) – This limited 19 Year Old offering is still available, but it's not as good as their Cask of Dreams and cost $50 more.  The spices overpower the fruit, vanilla and honey, completely ruining the good start.  As a result, you end up with an somewhat average whisky that lets you down at the end, when it counts most.  Don't bother with this one!
Glenfiddich Vintage Reserve 1974 ($800) – Easily the best pour of the night, this is a limited 36 Year Old offering that we were fortunate to experience.  The nose revealed honey, vanilla, straw, pear, apple and pomegranate, indicating that this was in another league compared to the rest of the lineup.  The taste was every bit as interesting with pineapple, orange marmalade, plum, honey, straw, lemon and ginger.  Much of the spice and fruit carried over into a great finish with a nice rich feel to it.  Overall, this is a well balanced and flavorful offering that I'm glad to have experienced.
This was another fun night at Trinity Hall and opened my eyes to the Glenfiddich line, which I might not have tried otherwise.  The 12 Year Old is one that I'll recommend in the price range along with Monkey Shoulder at the lower price point.