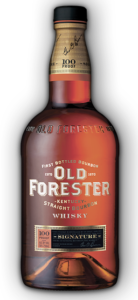 Tonight I'm comparing three bourbon whiskies from Old Forester.  The first is Old Forester Signature, a 100° straight bourbon with no age statement.  Second is Old Forester 1870 Original Batch, a 90° small batch straight bourbon with no age statement commemorating the first bottled bourbon in America (according to Brown-Forman's claim).  I'll finish with the 2010 edition of Old Forester Birthday Bourbon (a limited edition, annual release), which is a 12 year old vintage release (all 72 barrels were distilled on the same day) straight bourbon bottled at 95°.  By the way, I've presented them in order of increasing price and will be tasting them in the same order.  Here we go….
Old Forester Signature – The nose is rich with caramel, vanilla, cigar box, dark cherries and lemon drops.  On the palate, the tastes are similar with the addition of straw and black pepper.  The finish lingers with a peppery and leathery mingling of barrel char and caramel. It starts out with a burst of flavors and an initial sweetness, then transitions to an oily and peppery heat before finishing with that leathery mix.
Old Forester 1870 Original Batch – While I still smell the cigar box and some barrel char, this one offers a less rich mixture of butter, candy corn and a whiff of menthol.  The taste is light and balanced, with a mild peppery bite that lingers through to the finish accompanied by barrel char and straw.  In the middle of the palate, there's a grassy taste that throws things off a bit, but not too much.  The mouthfeel is lacking here and the finish is only moderately long.
Old Forester Birthday Bourbon 2010 – A mild aroma of caramel, barrel char, menthol and mint with hints of grass and honey, this is not the typical rich, beautiful aroma that I've found in other Birthday Bourbon offerings, which are some of my favorite bourbons to nose.  Lots of barrel char greets the palate along with black pepper, caramel, honey, menthol and a hint of grass that throws things off a bit, although not as much as 1870.  The finish is long and peppery and the mouthfeel is somewhat oily, but laced with grass through to the finish.  In other words, you feel the oiliness but taste the grass where you just felt it.
The easy winner is the 100° Signature at around $22-25.  Old Forester Signature is a great value for those who enjoy this flavor profile of sweet dark fruit with tobacco and candy, although the sweetness gives way quickly to a solid finish.  I would pass on the 1870 Original Batch, unless it's significantly reduced from its typical $40 price.  I've long known that the 2010 Birthday Bourbon was a disappointment, so if you happen upon a bottle on the secondary market at the current $250 price, I would recommend not taking a second look.  If by chance you spot it on a shelf for $25 as I did, then you might want to check it out just to see what the woody Birthday Bourbon profile is like.