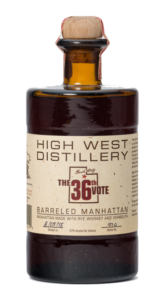 I've admired High West's The 36th Vote since it was introduced and have recommended it to many. Now that they've discontinued it, I thought it was time to explore other options. Tonight I'll compare a similar Manhattan made in the same proportions (2:1) and using the same whiskey (Double Rye). For my version, I've employed my favorite Carpano Antica Formula Sweet Vermouth and Angostora Orange Bitters.
The barrel aging of The 36th Vote is so readily evident on the nose and palate, offering a sweet toffee in balance with the wine. On the palate, the wine is more evident as is the older rye component of  Double Rye (as opposed to my usual Wild Turkey 101 Rye). These flavors meld together so wonderfully in the barrel in a way that seems to elevate this traditional cocktail (I told you that I liked it). Fruity flavors intertwine with barrel char, spice and toffee to create this delectable cocktail that showcases the whiskey as it should be.
I don't know which vermouth High West used in The 36th Vote, but it's nowhere near as rich as Antica Formula. This cocktail still shows a bit of barrel char from the whiskey but the fruit flavors are more stewed than wine-like. The orange bitters add just a bit of zing to sharpen things up. I think the ratio with this vermouth is too high and that 3:1 may be more appropriate to let the whiskey show through more. Still, this is a nice cocktail, but not as enticing as The 36th Vote.
Since it's so easy to increase the whiskey ratio, I've done it tonight. At 3:1, the rich vermouth is finally retreating, but still a bit too dominant. At 4:1, I'm finally satisfied with the balance of whiskey and vermouth. I can now taste the rye spice and the rich fruit flavors are still there all the way through to the finish. Even at this ratio, I prefer The 36th Vote, so I guess I really like a barrel aged Manhattan.
I'm still left with the unavoidable disappearance of this product, so I'll be trying more experiments with another rye (Rendezvous) and another vermouth (Ransom). One thing I've determined tonight is that Antica Formula isn't as expensive as I once thought because you need less of it.  The flavor is awesome and you can use it sparingly compared to other cheaper products. Stay tuned for more Manhattan exploration.