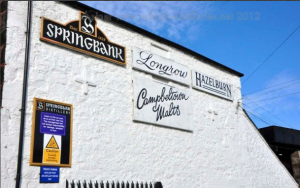 Trinity Hall hosted a tasting of Campbeltown whisky with offerings from Springbank (Springbank, Hazelburn and Longrow) and Glengyle (Kilkerran) distilleries.  Here's the rundown:
Hazelburn 12 Year Old Single Malt ($90) – The Hazelburn brand is for the non-peated offerings from the Springbank distillery.  Aromas of cereal, vanilla and plum, with similar tastes of cereal, vanilla, red delicious apple and pear.  Also, notes of white grape, ginger, white pepper, black pepper and green pepper. The finish is mild leathery wood and mild pepper.  A solid whisky, but overpriced.
Kilkerran Work-in-Progress #6 Sherry Wood Single Malt ($60)– This is a 10 Year Old work-in-progress offering from Glengyle distillery, which will culminate in a 12 Year Old offering in 2016.  A fruity nose of cherry and plum with cereal and vanilla that precedes similar tastes of mild peat, plum, cherry, apple and cereal along with spices of ginger, white pepper, black pepper and a mild barnyard note. The finish is peppery and leathery with notes of vanilla, charred oak and bitter honey.  Another good whisky that shows promise for the eventual production offering, but I think I'll wait for the final product.
Springbank 10 Year Old Single Malt ($50)  – Springbank offerings are mildly peated and this one is matured for 10 years in ex-bourbon and ex-sherry casks.  The nose brings cereal, mild peat, apple and pear, while the palate senses cereal, vanilla, ginger, apple, pear, nutmeg and honey before a spicy and leathery finish. Springbanks youngest age-stated whisky is well balanced and offers a rounded flavor with mild peat.  I highly recommend it as an introduction to the Campbeltown style of Scotch whisky.
Springbank Green 12 Year Old Single Malt ($95) – This is an atypical Springbank offering with lightly fruity nose (mostly pear and apple) amidst a bit of smoke, vanilla and honey. I taste white grape, peach, pear, mild peat, ginger, honey, pepper, cigar box and detect a spicy, fruity, leathery and long finish with lingering light fruity notes. Each drop of water seemed to reveal new flavors, indicating a complex whisky that needs more exploration.  I'm glad that I have a bottle of this at home and would recommend it over the Hazelburn 12 Year Old if you can handle a bit of peat.
Springbank 18 Year Old Single Malt ($140) – An inviting nose of cereal, vanilla, plum, apple and cherry precede a palate of cereal, vanilla, plum, cherry, pear, apple, ginger and cigar box followed by a finish of charred oak and leather with spice and dried fruit. Lots of flavor here and a long finish with great balance across the board.  This is just as good as I remember and an exciting whiskey that I highly recommend even at the moderately price premium.
Springbank 17 Year Old Single Cask Fresh Sherry Single Malt 1997 ($160) – A rare Springbank offering with a fantastic nose of raisin, plum, molasses, cereal and a mild farminess and an equally fantastic montage on the palate of plum, raisin, ginger, pepper and almond. Other notes of tropical fruits and nuts.  It's a bold whisky with great balance and lots of flavor that develops will with the addition of water.  Easily the winner of the night and an outstanding whisky!  I hope I can find a bottle!
Longrow 18 Year Old Single Malt ($180) – Essentially, a peated Springbank 18 Year Old, the nose is peaty with nuts, cherries, raisins and plums. The taste is mildly farmy with honey, mild smoke, tobacco, raisin and plum developing into an oily, farmy, briny, fruity and very long finish.  It's good, but not great and probably my greatest disappointment of the night as I was expecting much more.
Afterwards, everyone at our table took turns buying mystery whiskies for each to take a guess at.  Here's what we tried:  Bruichladdich Port Charlotte Islay Barley, Compass Box The Peat Monster, Ardbeg Galileo, Bowmore 15 Year Old, Lagavulin 16 Year Old, Glenfarclas  17 Year Old, Isle of Jura 16 Year Old and Ardbeg Corryvrecken.  All of them were good and there were only 2 correct guesses, although it was fun making an attempt to hone in on the answer and we learned a lot in the process.  In fact, our group decided to do a formal blind single malt tasting at a later date.