On the nose, lightly peaty with orange, vanilla, butterscotch and honey. I taste the butterscotch and honey along with a bit of smoke. The peaty smoke is more noticeable as I continue to sip, then gives way to a lingering light smoke with a sweet alcohol burn that lasts for a good minute or so. It's got a light oily feel to it and needs a bit of water. Adding very little water releases a smoky aroma and reduces the burn considerably. The sweetness remains and is joined by bitter orange and white pepper, while the oiliness is greatly reduced. Still, the smoky aftertaste lingers even longer and coats my mouth.
This is my first real experience with a peated Scotch and I have to admit that I've really enjoyed it. I've had very few Scotch whiskies, but this has got to be the best one by a significant margin. I'm looking forward to the next 23 days.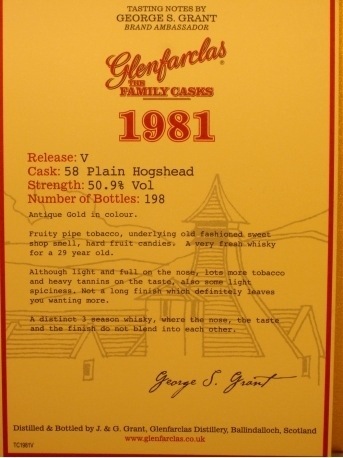 Here is what Master of Malt had to say about this one:
The fifth release of Glenfarclas 1981, this whisky was aged in a single plain hogshead (cask 58), and it was bottled at natural cask strength in 2010. It marks a change from many of the family casks as it's bottled from a plain cask, and not a sherry cask.